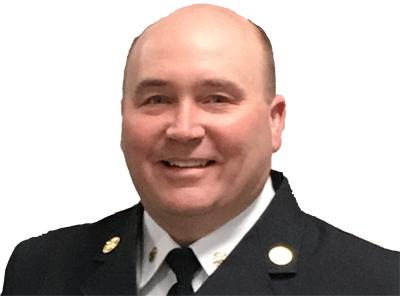 Fire Chief Derrick Little
It's been a steady start to 2019 for the SRFD. The continued amount of precipitation has helped us cut down on out of control grass and brush fires. Shared services with the Tweed Fire Department, administration as well as the Chief and Fire Prevention Officer is going well . FPO Sean Porter and our other fire prevention officers and myself have been conducting numerous inspections, fire investigations and assisting in the development of fire plans.
The SRFD gained three new volunteers this year: Jason McCaskie, Megan Belanger and Jordan Hunter have been added to Station 1. While Jessie Hubble and Phil Warren have been promoted to Captain positions at Station 2. Brenton Madsen and Gerry Nobes have also been promoted to Fire Prevention Officers. We have had two long time Fire fighters retire this past year. Captian Jim Bronson with over 27 years of service and Grant Moore with over 10 plus years of service. Both members will be greatly missed and we thank you and your families for the many years of dedicated service. A huge thank you to all of our firefighters that volunteer their time and efforts to helping fight these fires and medical emergencies and a big thanks also to their spouses and families for their dedication and support. A big thank you to Belleville Sport and Lawn for the continued support of supplying us of our Suzuki ATV 's that greatly assist us in our ability to combat the many grass and brush fires and aid us with our search and rescues.
Several members of our department have attended training courses at the Hastings-Prince Edward Mutual Aid Training Facility in Trenton. We have also added the help of the new Loyalist College training program to assist on certification of our fire fighters. SRFD volunteers attend bi-weekly joint hall training and hall station meetings and are on a weekend on call schedule to assure truck check and halls are covered.
Congratulations goes out to all those who have achieved succesfull training certifications. We have also had one of our Captians' Andrew Visser hired as a full time firefighter with the City of Belleville. Congratulations to Andrew and his family.
It is now law that all homes must have carbon monoxide and smoke detectors placed outside all bedrooms and on all levels. These devices should be checked and tested monthly.
Remember to visit this website to check burning conditions before any burning. For larger burns please contact the Fire Department 613-395-0214.